Product Parameter
Model
InkFa-3325
InkFa-3020
InkFa-2513
InkFa-1612
Printing size(W*L)
3300*2500mM
3000*2000mm
2515*1500mm
1600*1200mm
Equipment weigh
2000kg
1500kg
1140kg
750kg
Print head
RICOH G5 Print head
Color
CMYK+W; Double CMYK; CMYK+LCLM; CMYK+W+V
Print height
0mm-80mm
Print load bearing
Max load bearing 100kg
Printing resolution
720*900DPI; 720*1200DPI; 720*1800DPI
Lifting function
Intelligent carriage elevator,electronic automatic/Manual intelligent induction detection and adjustment height
File form
TIFF(RGB&CMYK),BMP,PDF,EPS,JPEG
Ink system
Continuous ink supply/Volume Max.3500ml
Print head quantity
2/3/4/5/8
2/3/4/5

Print speed

8 print head 4 color:Max 75m2/h
High speed:26m2/h(4Pass both way )
Standard:18m2/h(6Pass both way )
High resolution:12m2/h(8Pass both way )
USB interface
USB 3.0
Driver software
Microsoft Windows 7x64
RIP software
Color GATE RIP9/Photo Print
Working environment
Temperature:20¡æ-32¡æ; humidity:40-70% RH
Equipment size
5530*3370*1350mm
4794*2835*1320mm
4230*2070*1325mm
3430*1970*1350mm
It can realize double high-speed 4 color and 8 color high quality printing,adopt 2 sets CMYK ink to make double four color high speed printing, it also can increase four light colors to the traditional four-color print to achieve eight color printing, print effect is vivid, using electronic display ink cartridge level detection system in uninterrupted production model, achieve mass production.
RICOH G5 Nozzle Technology
Adopt RICOH G5 Nozzle print head, High strength all-steel frame with corrosion resistant, printing head with long service life, working stability and high quality printing effect. It can satisfy different industry customers requirement.
1.RICOH G5 Nozzle

2.Ink droplet 7pl-35pl can be adjusted

3.Printing speed:12-75m2 /h

4.Corrosion resistant

5.Not easy to plug the nozzle.

6.Long service life
1.Color Gate RIP

German color management software CG

Top German Color Gate RI software. Excellent color management and ICC profile make ink cost reduced by 30%, color more gorgeous, color matching more accurate

2.Control

Standard monochrome for ink control.Ink road protection secondary ink cartridge, anti-ink phenomenon.High efficiency, high precision printing.

3.Steel

The machine adopts the all-steel integrated structure, the steel frame supports the density stability, the structure is reasonable, strongly stability, it doesn't deform within five years normally use.
Imported Germany Drag chain

Suitable for high speed working, can greatly reduce the wear of wires, drag chain working more smoothly, and the noise reduce 30% than others drag chain


Unique Y axis double screw rod servo motor

Using imported Japan high precision servo motor, innovative technology to guarantee the servo motor high speed working with ultra precision, durable and more stable performance

High performance mute screw

Grinding screw drive control device, greatly improve ink inking accuracy, reduction of banding stripes due to inking error.High speed imported mute screw, high resolution,low noise, wear-resisting, ensure accurate alignment.


Suction platform

Adopt brand steel structure suction platform,platform surface is high hardness,corrosion resistance, uniform and stable suction, protect print head,extend its service life.

InkFa-2513 RICOH UV Flatbed Printer
1. Imported Japan color/whiter ink adjusting negative pressure meter
2. Imported Japan high resolution dual-servo motor
3. X-axis ultra-quiet dual-rail
4. Drawer type push and pull moist air cabinet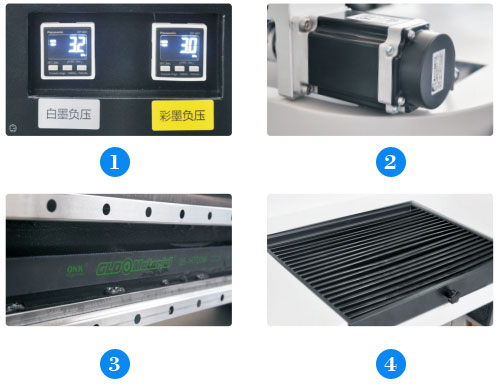 1. 8 ways independent ink supply system
2. 39 supporting point on platform
3. Ultra-quiet slider
4. 4.5cm space aluminum suction platform
5. Vibration reduction coupling
6. Anti-interference filter

Application Area
Ceramic tile, glass, aluminum plate, plastic board, board, polystyrene board, leather, polyurethane board, foaming board, metal plate, textile, wallpaper, mobile phone case, etc